Apple Announces $200+ Photo Book Called 'Designed by Apple in California' [Update: Now Available]
Apple today announced the release of a new hardbound photo book, called "Designed by Apple in California," that chronicles 20 years of Apple product designs through 450 photographs. The book ranges from the iMac in 1998 to the Apple Pencil in 2015, and "also documents the materials and techniques used by Apple's design team over two decades of innovation." It is dedicated in the memory of former Apple CEO Steve Jobs.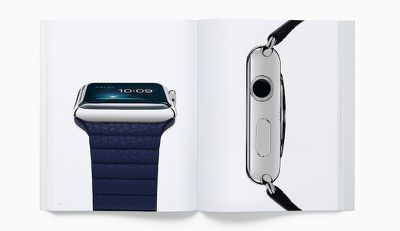 The photographs in the book were shot by Andrew Zuckerman and are said to showcase each product's design process as well as its final form. Apple chief design officer, Jony Ive, gives the foreword for the book, explaining that its purpose is not to illustrate the success of Apple's design team, but to "describe how we work, our values, our preoccupations, and our goals."
"The idea of genuinely trying to make something great for humanity was Steve's motivation from the beginning, and it remains both our ideal and our goal as Apple looks to the future," said Jony Ive, Apple's chief design officer. "This archive is intended to be a gentle gathering of many of the products the team has designed over the years. We hope it brings some understanding to how and why they exist, while serving as a resource for students of all design disciplines."
Apple developed the book over an eight-year period, paying close attention to its own design and look. Because of this, the linen-bound, hardcover book is printed on specially milled, custom-dyed paper with gilded matte silver edges, using eight color separations and low-ghost ink. It will be published by Apple itself, and only be available to purchase from the Cupertino company.


"Designed by Apple in California" will go on sale tomorrow, November 16, in small (10.20" x 12.75") and large (13" x 16.25") sizes, running $199 and $299, respectively. Fans will be able to order the photo book from Apple.com in Australia, France, Germany, Hong Kong, Japan, Korea, Taiwan, the United Kingdom, and the United States, as well as at select Apple retail stores across the world.
You can check out more images of the book here.
Update 11/16: Designed by Apple in California is now available to purchase from Apple.com.