Alongside the new MacBook Pros, which only include four USB-C ports with Thunderbolt 3 support, Apple has released a Thunderbolt 3 (USB-C) to Thunderbolt 2 Adapter.
Priced at $49, the Thunderbolt 3 to Thunderbolt 2 Adapter will allow customers who purchased a new MacBook Pro to connect Thunderbolt 2 accessories like hard drives to one of the Thunderbolt 3 ports in the new MacBook Pro.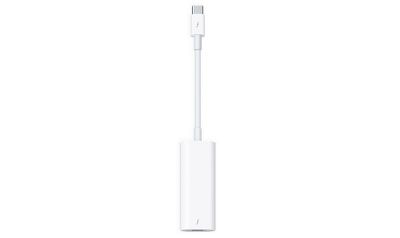 Because the adapter is bidirectional, it can also be used to connect Thunderbolt 3 devices to a Mac that's equipped with a Thunderbolt or Thunderbolt 2 port.
The new Thunderbolt 3 to Thunderbolt 2 Adapter is not yet available in Apple retail stores, but it can be ordered online. Deliveries placed today will ship on November 4 at the earliest using the fastest shipping method.