DJI today announced the launch of the Mavic Pro, its latest and smallest drone. The DJI Mavic Pro is designed to be compact, folding down to be put in a bag so it can be used anywhere.
When its four arms are folded and the propellers tucked away against its body, the Mavic Pro is "practically the size of a water bottle," making it more portable than most drones. Despite its small size, the Mavic Pro is equipped with a stabilized 12-megapixel camera capable of capturing 4K video at 30fps and FlightAutonomy visual navigation system, plus it features a 4.3 mile range and can be flown for 27 minutes before needing to be recharged.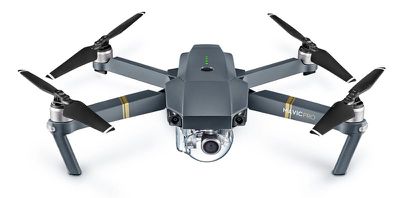 DJI has spent a decade making it easier for anyone to fly, and by rethinking everything about how a drones look, we have created an entirely new type of aerial platform for anyone to explore their creativity," said Frank Wang, DJI's CEO and founder.

"Mavic Pro is a technological triumph filled with features that once again show how DJI leads the industry. Most importantly, Mavic Pro allows you to reach the skies easily, see the world with new eyes and tell your stories like never before."
FlightAutonomy, new in the Mavic Pro, consists of five cameras, GPS and GLONASS navigation systems, ultrasonic range finders, and 24 computing cores to navigate and plan routes for the drone. It can avoid obstacles while flying at 22 miles per hour, but it's also able to reach speeds up to 40 miles per hour.
Mavic Pro can be controlled via an included compact remote controller with a built-in LCD screen or through an iPhone or iPad with an accompanying app. When used with a smartphone, DJI says the Mavic Pro can be set up and made airborne in less than a minute.


DJI has priced the Mavic Pro at $999 with the remote controller and $749 without it. DJI is also offering additional batteries for $89 and a bundle with a Mavic Pro, two extra batteries, additional propellers, a charging hub, an adapter, a car charger, and a bag for $1,299.
The Mavic Pro is available for pre-order from the DJI website starting today, and will soon be able to be ordered from Apple.com. Apple is already promoting the Mavic Pro on the iPad accessory section of its website, though there is not yet a store listing for it. Apple retail stores will begin selling the DJI Mavic Pro in early November.