Apple today updated its investor relations page to note that it will announce its earnings for the fourth fiscal quarter (third calendar quarter) of 2016 on Thursday, October 27.
The earnings report will be an exciting one, as it will provide a look at early iPhone 7 and iPhone 7 Plus sales. Apple has declined to release launch weekend sales for the two devices, making it difficult to determine how well the new phones have sold compared to the iPhone 6s and 6s Plus.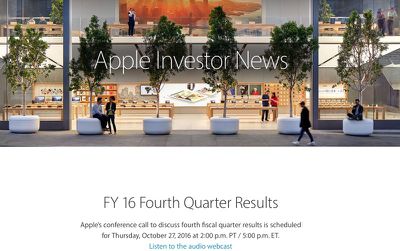 For the third quarter of 2016, Apple posted revenue of $42.5 billion and net quarterly profit of $7.8 billion, or $1.42 per diluted share. That was down from $49.6 billion in revenue, $10.7 billion in net quarterly profit, and $1.85 per diluted share in the year-ago quarter.
Apple's guidance for the fourth quarter of fiscal 2016 includes expected revenue of $45.5 to $47.5 billion and gross margin between 37.5 and 38 percent, well below the revenue of $51.5 billion it saw in 4Q 2015.
Apple will release its quarterly earnings statement at 1:30 p.m. Pacific Time (4:30 p.m. Eastern Time), with a conference call to follow at 2:00 p.m. Pacific Time (5:00 pm. Eastern Time). MacRumors will provide live coverage of the results and the call.