Despite rumors suggesting the Apple Watch Series 2 models would feature longer battery life than the original Apple Watch models, technical specifications for the new devices shared by Apple suggest the Apple Watch Series 2 will continue to offer up to 18 hours of battery life -- the same as Apple Watch Series 1.
Part leaks indicate the Apple Watch Series 2 may indeed have a larger battery built into it, but it appears any increase in battery capacity is being consumed by the new GPS chip introduced in the Series 2. GPS, which will bring better location tracking to the Apple Watch, can drain a significant amount of battery.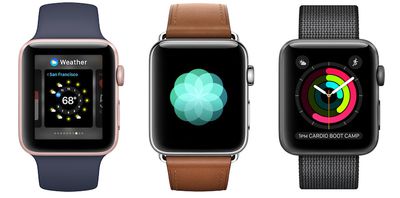 Apple didn't mention the battery life of the Apple Watch Series 2 on stage or point towards any battery improvements, so we will need to wait for a device teardown to see exactly what's inside.
In addition to a new GPS chip, the Apple Watch Series 2 features a more water resistant casing suitable for swimming, a display that's brighter in direct sunlight, and a second-generation dual-core S2 system-on-a-chip that offers 2x faster graphics performance and 50 percent faster CPU performance. Power drawn by the GPS chip may also be mitigated by the new S2.