Sony today announced the upcoming launch of a new DualShock 4 USB Wireless Adapter, which will allow Mac and PC users to wirelessly connect a DualShock 4 controller to their machines.
The adapter will enable all DualShock 4 features, including buttons, analog sticks, touch pad, light bar, motion sensors, vibration, and stereo headset jack so long as games support the feature.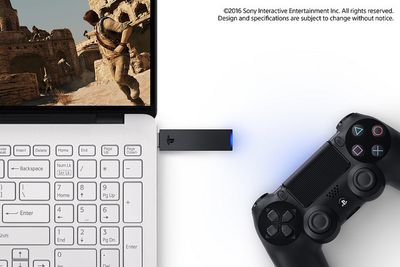 Currently, the DualShock 4 controller can connect to Macs via Bluetooth or a USB cable, but the adapter will allow for access to all controller functions. The adapter can also be used for PS4 Remote Play, which allows games to be streamed from the PS4 to a Mac or PC.
Sony has also announced imminent PlayStation Now availability for Windows PCs, which will allow PCs to play PS3 exclusive titles. PlayStation Now will be launching soon in Europe and a wider release in the United States will follow. Sony says it is "evaluating" Mac support for PS Now, but has nothing to announce at this time.
Sony will begin selling the DualShock 4 USB Wireless Adapter in early September for $24.99.