Former Apple Store Employees Provide Amusing Glimpse Into Company's Retail Culture
A trio of former Apple Store employees recently delved into some stories of their tenure at various retail locations of the company's well-recognized brand. Although their names were changed to keep their identities a secret, the group which spoke with Thrillist included: Lucas, a Lead Genius with five years of experience; David, who worked part-time as a Sales Specialist for four-and-a-half years; and Tony, a Family Room Specialist for five years at an Apple Store.
Some of the topics tackled by the former Apple employees were Apple's much-discussed secrecy that would sometimes trickle down from corporate, the comical lengths customers went to in order to get a product replaced, and the power dynamics inherent within every Apple Store location. David had some first-hand experience with a particularly extensive reach for secrecy implemented by Apple during the launch of the iPhone 5, which also ditched the 30-pin charging adapter for the now ubiquitous Lightning cable.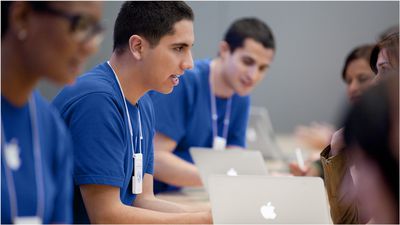 David: "We were never given inside information on any new product releases or designs. I remember when the iPhone 5 came out, we got a shipment of the newer Lightning Cables a little bit before the announcement. Even something as simple as the design of the new cable was such a secret that when they originally sent them to us, they were disguised inside of a mock enclosure that mimicked the older, 30-pin cable design. When the new cable was unveiled, they sent us instructions on how to pry these enclosures open to reveal the newer connector secretly housed inside of the older ones. Crazy stuff."
All three of the former employees chimed in on the awkward stories surrounding customers bringing in "completely destroyed" Apple devices and attempting to walk out of the store with a new replacement. Lucas mentioned a man who claimed an iPhone "erupted into flames," while further evidence suggested it was microwaved in a misguided attempt to remedy accidental water damage. Tony and David provided weirder tales still.

Tony: "I had a guy try to convince me that the liquid damage was some kind of E.T. fluid from when he was abducted [by aliens]. It was hard to keep a straight face during that."

David: "One time we had a guy bring in a completely destroyed iPhone in a plastic bag. I mean this thing was 100% unrecognizable. He told us it wasn't working right, so he took it out behind his house and shot it with a rifle because he was so fed up with the thing. We did not replace it."

Lucas and David went further into the specifics of the "distinct hierarchy" of the Apple Store, detailing an "odd" dynamic imbalance between entry level employees and those higher up. Most of the full-time positions were "seen as an accomplishment" due to Apple's extensive training program that flew out applicants to Cupertino or Austin for a few days. This created an "off-putting" atmosphere for new employees trying to get by in the store and still years off from being able to take advantage of the company's perks. According to Lucas, no one at an Apple store -- seasoned or newly employed -- could tell any customer "no."

Lucas: "Under no circumstances could we tell a customer directly, 'No, I cannot help with this issue.' This was a tricky one in certain situations. For example, if a customer had to pay $199 to replace their broken iPhone screen, they'd get very upset. If they say something like 'So you're telling me you can't help me with this, you can't fix my phone?!' we were trained to reply with 'Yes, I absolutely can help you and I'd love to. The replacement is $199.' This could loop around in circles for quite awhile."
Earlier in May, Apple celebrated the 15th anniversary of the first two Apple Stores, which opened their doors on May 19, 2001 in Tysons Corner, Virginia and Glendale, California. Since the opening of those two pioneering locations, Apple has expanded to operate nearly 500 stores in over a dozen countries -- spearheaded by Senior Vice President of Retail, Angela Ahrendts -- which undoubtedly contributes to unique stories like the ones that have been divulged to Thrillist.
Tony, Lucas, and David go into detail about many other areas of working at an Apple Store, including the wayfaring strangers who take advantage of the store's multiple internet-connected computers and the sometimes sensitive material discovered during data migrations of iPhoto. You can read the full article detailing a few slice-of-life stories from the former Apple Store employees here.