Apple stock enjoyed its biggest one-day rise since May on Thursday, following a brief dip as investors speculated on the company's prospects in the run-up to its Q3 earnings call and the release of the iPhone 7 later this year.
Shares closed at $98.78, almost hitting their previous high since Apple reported its fiscal Q2 earnings, when the company's stock fell below $100. Shares remain down 26% from its own record high close of $133 set on February 23, 2015.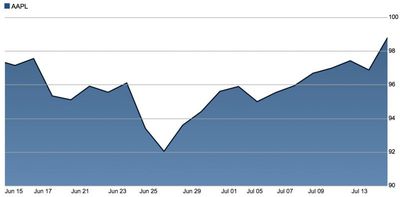 The rise followed Wednesday's blip after consumer research firm Kantar Worldpanel released data showing that Samsung is outselling Apple in U.S. smartphone sales.
In the three months ending in May, Samsung accounted for 37% of all U.S. smartphone purchases, with Apple at 29%. However, a closer look at the figures showed Samsung's Galaxy S7 series accounted for 16% of sales in the same period, while the iPhone 6S series accounted for 14.6%, suggesting a much closer battle when it comes to flagship devices.
Outside the U.S., Kantar data revealed that Apple's iPhone 6s and 5s were the top two best-selling phones in the U.K., followed by the Samsung Galaxy J5 and the iPhone SE.
In Q2 2016, Apple saw its first year-over-year revenue decline since 2003 along with its first ever drop in iPhone sales, and that downward trend is expected to continue into the third quarter of the year.
The company's earnings announcement for the third fiscal quarter (second calendar quarter) of 2016 will take place on Tuesday, July 26.
Last week, industry research revealed that Mac sales experienced a slight year-over-year decline in the second quarter, dropping to 4.4 million from 4.8 million during the year-ago period. Apple fell behind ASUS to finish as the fifth-largest PC vendor by shipments worldwide.
Apple has not updated the MacBook Pro in over 400 days, with a refresh for its entire MacBook Pro line-up expected in the fourth quarter. The company is expected to unveil its new iPhones in the fall.