Apple Campus 2 to Feature Custom Designed 18-Foot Tables Inside 'Collaborative Pods'
Apple Campus 2 has been designed from the ground up to meet Apple's exacting specifications, and the same careful attention is also being applied to the interior of the building, including the furniture. In a recent visit to the Apple Campus, design-focused site Design Milk was given a small tidbit of information regarding one element of the interior design of Apple Campus 2 -- the tables.
Apple is having 500 custom white oak tables created for Apple Campus 2, each one measuring in at 18-feet long, 4-feet wide, and 660 pounds. The tables are being designed by Dutch company Arco from a single sheet of wood with skateboard-style rounded edges and a seamless surface.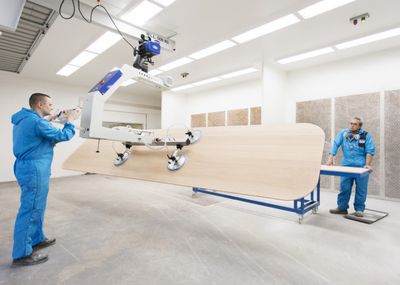 The closest approximation that popped into my head was an enormous naked wood skate deck designed for a colossus Jony Ive. And if the length of all 500 tables inside Apple Campus 2 were combined, it would roughly equal the distance of the National Mall in Washington, DC.

These extra large Pod Island Tables by Arco are constructed from continuous sheets of solid Spesshart white oak sourced from the fairytale forests of Germany. There are no visible seams because of the company's innovative manufacturing technique, which essentially peels away continuous single thin sheets of wood, which is then layered into a table top.
Apple plans to use the tables inside of open area "pods" located on each floor of the main ring-shaped building. The layout is designed to encourage "accidental mingling" between employees by providing an open workspace that "brings people together organically," a concept Design Milk says originated from the time Steve Jobs spent at Pixar.
In an interview with Arco director Jorre Van Ast, Design Milk gleaned some details about what it was like designing a piece for Apple. Apple's team of designers and Foster + Partners were looking for something built to their exact specifications, and van Ast describes the collaboration as "very intense and constructive."

During a meeting to inspect the first prototype together with Apple and Foster+Partners, the question was raised: 'but what if it was made out of a single piece? Can you achieve it?' They challenged us to push the boundaries of our craft, we got excited ourselves as well and started to investigate how to overcome the limitations inherent to the way we produce tables--not just here at Arco but for the entire furniture industry including our partners. Design, machinery, logistics, finding the right material... it all had to be reconsidered.
When completed, the tables, along with 300 additional tables and 200 benches, will be shipped to Apple in Cupertino and installed at Apple Campus 2 using cranes and dollies. Apple's second campus is still under construction, but much of the main ring-shaped building has been completed, as has work on several auxiliary buildings like an auditorium and a fitness center. Apple plans to finish construction at Apple Campus 2 by the end of 2016, with employees moving into the space starting in 2017.
For much more detail on the tables that will be used at Apple Campus 2, make sure to check out the full article on Design Milk.