Alleged Leaked iPhone 7 Images Reveal New Case Design
The first purported leak of the case design for the iPhone 7 appeared yesterday on French blog Nowhereelse.fr.
The alleged images from Taiwanese phone case manufacturer Catcher Technology depict a subtle chassis redesign for the iPhone 7, which is expected to be released by Apple this coming September.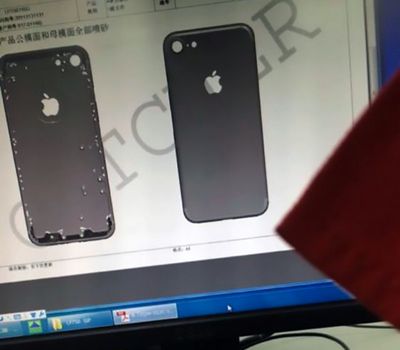 Photo allegedly depicting new iPhone 7 chassis design (Image: Nowhereelse.fr)
The renders are consistent with
information
obtained by
MacRumors
last month from a previously reliable source claiming that the handset will lack antenna bands across the rear. As expected, the images show antenna bands are limited to the sides and around the top and bottom edges of the chassis.
In addition to the cleaner all-metal look, the images of the rear of the case depict a larger hole for the camera. The orifice is described as closer to the edges of the chassis and forming a "slight bulging outgrowth", a phrasing which doesn't appear entirely consistent with our earlier source's claim that the camera sits flush with the rear casing.

The chassis leaker adds that the design "seems slightly thinner than the iPhone 6s, confirming in passing the lack of a headphone jack port". That would appear to support last week's
leak
of the first protective case prepared for the iPhone 7 showing two openings for stereo speakers in lieu of the 3.5mm headphone jack on current iPhones. However, the purported change is difficult to confirm one way or the other based on these latest renders.
Earlier yesterday, Nowhereelse.fr also posted images allegedly showing dual-lens camera component parts for the iPhone 7 Plus, however these were later revealed to be identical to images that surfaced in early January.
Some rumors claim the dual-camera setup may be exclusive to the iPhone 7 Plus, which reportedly may be called the iPhone Pro.