Photos of 'iPhone SE' Screen Display Confirm No 3D Touch
The first purported component leak for the so called iPhone SE has emerged via Nowhereelse.fr. The images claim to depict a screen assembly of the upcoming 4-inch iPhone.
Part leaks have been notably absent for the iPhone SE, despite rumors that the new device will launch in the middle of March -- only three weeks away.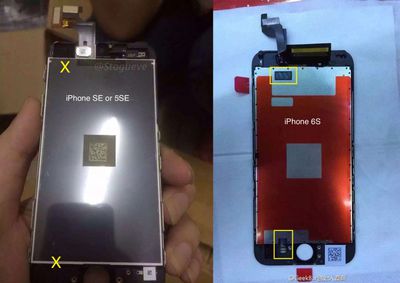 The new images seems to confirm that 3D Touch components are absent from the 4-inch device. This is consistent with rumors to date that suggest the 4-inch iPhone will incorporate Live Photo support, but not 3D Touch, which is considered a flagship feature for the iPhone 6s line.


The leaked images are said to be captured by a source that on "several occasions in the past proved to be reliable".
The iPhone SE is expected to be announced during a March 15th media event.