iPhone 7 Said to Expand Use of Single-Chip Electromagnetic Shielding
Apple is working on electromagnetic interference (EMI) shielding that will individually shield most of the device's major chips, helping to maintain the iPhone's performance as its power and complexity and thus potential for interference increases (via ETNews). The company has used EMI shielding on large portions of the iPhone's circuit board in the past, and a few individual chips have included their own shielding, but the iPhone 7 will apparently include a broader array of single-chip EMI shields, from radio frequency to wireless LAN and Bluetooth chips.
South Korean manufacturers StatsChipPac and Amkor are both said to be responsible for the production of the EMI shielding process on the iPhone 7 line. The cost of that production is also predicted to increase with the intricacies introduced using the technology.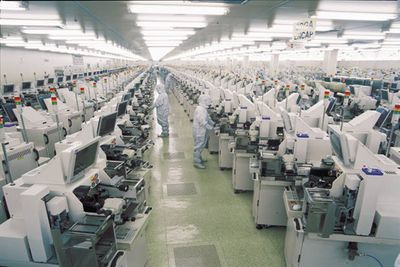 A production line in Amkor Technology
"As clock signals of digital chips have increased and as diverse functions such as 3D-touch and others have recently added, reduction of electromagnetic waves have emerged as major topic of this industry." said a representative of this industry. "As other Smartphone businesses might be looking to apply EMI Shield technology to major chips just as Apple did, packaging and other related equipment industries will benefit a lot from this."
According to the report, Apple decided to use the EMI shielding technology due to its effectiveness in preventing interference in wireless communication. Individual EMI shields can also allow for "more elaborate" and more densely packed circuit boards allowing for smaller devices or larger batteries. Similar EMI shielding was applied to the S1 chip package used in the Apple Watch last year
In regards to the general manufacturing of the next-generation iPhone, today a report stated that Apple has already lined up its partners for both the iPhone 7 and iPhone 7 Plus. Foxconn and Wistron are said to be heading up production on the 5.5-inch device, while Foxconn will join Pegatron in fulfilling orders for the 4.7-inch smartphone.