Microsoft has released an update for its Office 2016 for Mac suite that addresses multiple security vulnerabilities, fixes bugs and adds select new features across Word, Excel, PowerPoint, OneNote and Outlook.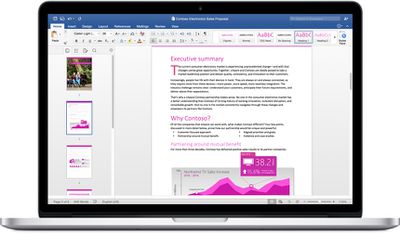 Version 15.8.0 allows Outlook to be used in full-screen mode for viewing multiple messages or invitations side by side. The update also makes it easier to find available Outlook conference rooms at your desired meeting time.
In Word, PDF files can now be saved to flash drives. Meanwhile, Excel and PowerPoint have gained new selection panes to keep track of worksheet objects and slideshow objects respectively, and rearrange their placement and order.
In OneNote, shapes can now be added to notebook pages and now support the built-in shapes gallery. OneNote, Excel and PowerPoint all received general bug fixes.
The free update is available from Microsoft AutoUpdate within Office 2016 for Mac, or the Microsoft Download Center, and requires OS X Yosemite 10.10 or later and a valid Office 365 subscription.