New 'Apple Museum' in Prague Shows Off Largest Private Collection of Apple Products
A newly opened Apple Museum in Prague is showing off the largest private collection of Apple products, housing Macs, iOS devices, and other Apple paraphernalia from 1976 to 2012. The museum opened its doors last Thursday, and an inside look has been shared on Imgur.
Located in a renovated historical building, the exterior windows of the Apple Museum are decorated with quotes from Steve Jobs, artistic product arrangements, and one popular quote of unknown origin.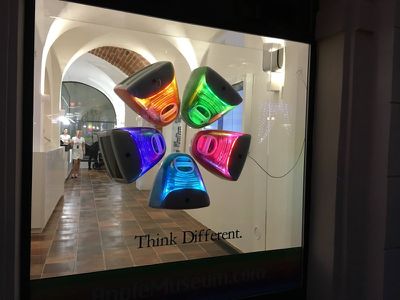 Three apples changed the world. The first tempted Eve, the second inspired Newton, and the third was offered to the world half eaten by Steve Jobs.
Included is an Apple Lisa, which is one of 100,000 made, an Apple II, and several other older Mac and NeXT Computer products. One section displays a range of printers Apple produced, while another houses iterations of the PowerMac and iMac and a third includes different iBook, PowerBook, and MacBook models.


Little known Apple accessories like the Apple camera are on display, and there's an entire section dedicated to the complete iPod family, including the special edition Beatles box set sold in 2008 for $795. Each version of the iPhone and iPad, starting with the original 2007 and 2010 models, is also shown off on dedicated tables in order of release.

Miscellaneous products, papers, contracts, and other small odds and ends from Steve Jobs' time at Apple, NeXT Computer, and Pixar are available at the museum, as are mementos from his early life, including a high school yearbook. The full assortment of images is available on Imgur and is well worth checking out for those who won't be able to visit the museum in person.


According to the Prague Post, there are more than 12,000 meters of computer cabling installed in the museum, which students from the Czech Technical University helped assemble. Also on the site is a bistro that includes all raw vegan foods, in honor of Steve Jobs' preferred diet, and there's an interactive space for children.
Tickets for the Apple Museum are available from the Apple Museum website for 11 euros. The site also includes details about the creation of the museum, the history of Apple, and will offer a 3D tour, information on Steve Jobs' diet, and products to purchase in the future.