Apple Responds to Developers Regarding Expired Mac App Store Security Certificates
Last week some users and developers experienced an issue that displayed a "damaged" error when attempting to open select apps from the Mac App Store, including popular apps like 1Password, Tweetbot and Byword. Today, Apple has sent an email to developers explaining what happened and how to fix their apps.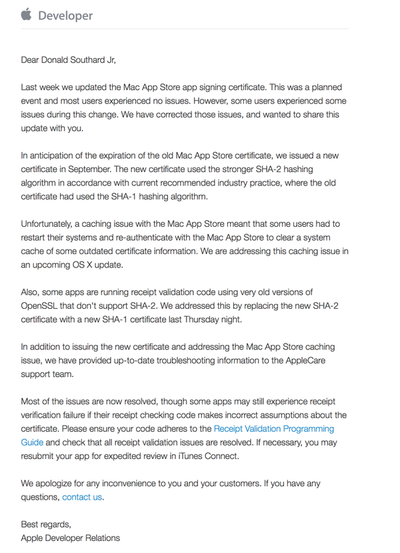 In the email, which developer Donald Southard Jr. shared on Twitter, Apple explains that the company issued a new security certificate for the Mac App Store in September in anticipation of the expiration of the old certificate. The new certificate used a stronger SHA-2 hashing algorithm instead of the old SHA-1 algorithm. Hashing algorithms are used by certificate authorities to sign security certificates.
However, two issues caused users to experience errors when starting up apps. The first issue, according to Apple, is that there was a caching issue with the Mac App Store that required users to restart their computers and re-authenticate with the Mac App Store to clear out the old cache. Apple says it's working on a fix for this in an upcoming OS X update. The other issue is that some apps were running an older version of OpenSSL that didn't support SHA-2. Apple says it replaced the SHA-2 certificate with a new SHA-1 certificate last Thursday night.
Finally, Apple says that "most of the issues are now resolved", but that some apps might still experience problems if the apps make "incorrect assumptions" about the Mac App Store's security certificates. Apple asks developers to make sure their code adheres to the Receipt Validation Programming Guide and to resubmit apps for expedited review if necessary. The AppleCare support team has also been briefed with the latest troubleshooting information for users.