Apple Announces Beats Pill+ Speaker Available in November for $229
Apple today announced a new Beats Pill+ Bluetooth wireless speaker with a simplistic design, stereo active 2-way crossover system and 12-hour battery life. The speaker will be available for $229.95 in black or white through the Apple Online Store and authorized Beats retailers beginning next month.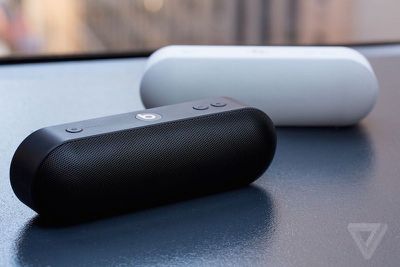 Beats Pill+ Bluetooth Wireless Speaker will retail for $229.95 (Image: The Verge)
The new Beats Pill+ companion app will enable users to control the speaker using a smartphone, with features including the ability to control music from two Bluetooth sources and sync two Beats Pill+ speakers together for either simultaneous or dedicated right and left playback.
"When you obsess about sound the way that we do at Beats, portable Bluetooth speakers can be very tricky," said Beats President Luke Wood. "We spent countless days, weeks, months testing for that perfect combination of form and function - small enough to travel but still big enough to feel the emotion of the music. That's what you get with Pill+."
The new Beats Pill+ replaces the original Beats Pill unveiled in October 2012, and is the company's first new speaker since being acquired by Apple for $3 billion in May 2014. The new Beats Pill+ is larger than the original Pill speaker, but smaller than the recalled Beats XL speaker, and weighs 1.5 pounds (0.68 kg).

Beats Pill+ companion app for iOS and Android
The Verge
went hands-on with the new Beats Pill+ speaker, calling it "the most attractive looking and sounding speaker that Beats has ever made" after listening to a brief demo of songs from various genres, including tracks by The Weeknd, Kendrick Lamar, Tom Petty and punk rock band PUP.
More important than the look and build is the sound, and judging from my brief demo the Pill+ is likely the best-sounding Pill ever. That's apparently all thanks to what's called a two-way active system, meaning that amplifiers are built into the speakers — two in fact, one for each pair of woofer and tweeter. This helps better assign the different frequencies of music to the right parts of the speaker, resulting in better sound.
The Beats Pill+ is equipped with both Lightning and USB ports on the back for charging your iPhone or other devices. The speaker has a rubberized power button and volume controls and a metallic Beats logo that doubles as a play/pause button. There is also a line in audio port.