Apple Fixes iMessage Crashing Bug in iOS 8.4 Beta 4
Apple seeded the fourth beta of iOS 8.4 to developers yesterday with a fix for a messaging bug that causes an iPhone, iPad or iPod touch to crash after receiving a specific string of Unicode characters via iMessage or SMS (via HDBlog.it). The bug also affects the Mac and Apple Watch and extends to third-party messaging apps such as Snapchat, Twitter and WhatsApp, as the issue is tied to the way banner notifications process Unicode.
Sending the string of characters to an iPhone, iPad or iPod touch results in an immediate respring, causing the device to crash and quickly reboot. From there, if the Messages app was opened at a list view, the Messages app crashes automatically when you try to open it. If it was opened to the conversation where you received the message, the app will open, but attempting to go to another conversation causes Messages to crash.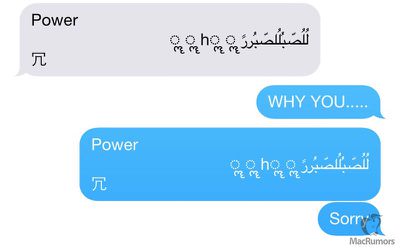 Apple recently published a support document on its website with a temporary workaround for the problem, and ensured that a permanent fix would be issued in a future software update. That fix has arrived in the form of iOS 8.4, which will be released ahead of Apple Music's launch on June 30. In the meantime, affected users can ask Siri to "read unread messages" and use Siri to reply to the malicious message in order to regain access to the Messages app and delete the message.