OS X 10.11 El Capitan, the successor to OS X Yosemite, is capable of running on all Macs that are able to run Yosemite, according to the OS X 10.11 release notes (via
Ars Technica
). The first developer beta is listed as supporting the following Macs, which are the same that are able to run Yosemite:
- iMac (Mid 2007 or newer)
- MacBook Air (Late 2008 or newer)
- MacBook (Late 2008 Aluminum, or Early 2009 or newer)
- Mac mini (Early 2009 or newer)
- MacBook Pro (Mid/Late 2007 or newer)
- Mac Pro (Early 2008 or newer)
- Xserve (Early 2009)
OS X El Capitan is focused heavily on performance improvements to make the Mac "snappier and more efficient." According to Apple, apps launch up to 1.4x faster and app switching is up to 2x faster. Displaying the first Mail messages when opening mail is up to 2x faster, and it's up to 4x faster when opening a PDF in preview.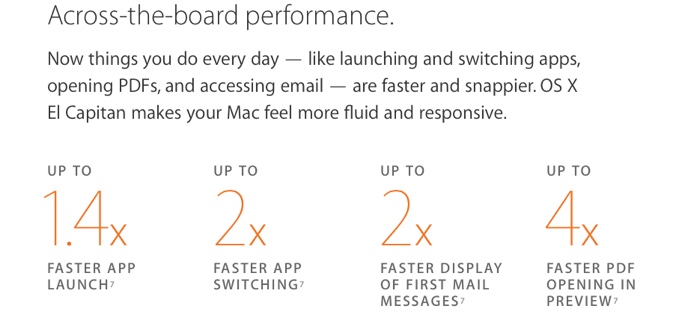 El Capitan also brings Metal to OS X for the first time, improving graphics for more fluid performance in games, high performance apps, and key system-level graphics operations.
iOS 9, the upcoming update for iOS devices, has also been designed to work with all devices that run iOS 8. Even older A5 devices like the iPad 2 and the iPhone 4s will be able to run the new operating system, and in many cases, performance will improve over iOS 8 thanks to the optimizations being introduced.
Both OS X El Capitan and iOS 9 will be available to the public in the fall, with a public beta becoming available in July.