Apple Won't Debut Subscription Television Service at WWDC
Apple does not plan to announce its streaming television subscription service at the Worldwide Developers Conference next week, reports Re/code, citing sources with knowledge of Apple's plans. Apple has informed television network executives that launch will be postponed because the company has not yet signed the necessary deals.
Apple wanted to launch a subscription TV service in early fall to coincide with the start of the new broadcast television season. But the debut got bogged down by negotiations over financial terms and new technology that would be required for broadcasters to deliver local programming to Apple's Web TV service.
According to industry executives, the television service may not launch until late 2015 or early 2016, as "technology and money issues" continue to be sticking points that have prevented negotiations from being completed. Apple's desire to provide consumers with local broadcast stations has also reportedly slowed down negotiations as securing all the necessary deals to show local programs and commercials takes a lot of time.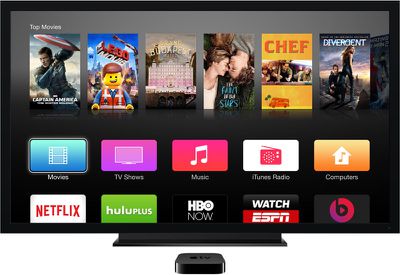 Rumors have suggested that Apple's streaming television service will feature approximately 25 channels priced at $30 to $40 per month. It would be available over the Internet and would not require a cable subscription package.
While Apple does not plan to debut its streaming television service at the Worldwide Developers Conference next week, it is rumored to be introducing a new Apple TV set-top box with a full App Store that includes apps and games. It's also expected to introduce a new streaming music service, a revamped version of iTunes Radio, and OS X 10.11 and iOS 9.