New Book Explores How the iPhone Contributed to BlackBerry's Downfall
Over the past several years, BlackBerry has gone from one of the top smartphone manufacturers to a company that's struggling to stay afloat in an increasingly competitive market. BlackBerry is hemorrhaging subscribers and losing revenue quarter after quarter as it attempts to turn the tide by focusing on marketing secure devices and software to its enterprise customers.
An upcoming book by Jacquie McNish and Sean Silcoff, Losing the Signal, explores the events that led to the rise and fall of BlackBerry, and an interesting excerpt was shared by The Wall Street Journal today, covering the iPhone's contributions towards BlackBerry's (then known as RIM) failure.
As we've previously learned from Google execs, the launch of the iPhone, which stood apart from all other smartphones on the market at the time, took everyone by surprise. Not only was the iPhone incredibly different from its competitors, it also had features that carriers had previously denied other manufacturers like a full web browser and later, an App Store that had no carrier ties.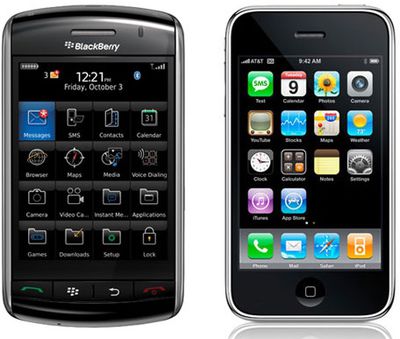 One of RIM co-CEO Mike Lazaridis' first comments was "These guys are really, really good," but despite that fact, RIM failed to see the iPhone as a threat due to its lack of security and the fact that it had no keyboard, features RIM execs thought would make it unappealing to RIM's core consumers.
If the iPhone gained traction, RIM's senior executives believed, it would be with consumers who cared more about YouTube and other Internet escapes than efficiency and security. RIM's core business customers valued BlackBerry's secure and efficient communication systems. Offering mobile access to broader Internet content, says Mr. Conlee, "was not a space where we parked our business."
RIM executives did not understand the iPhone and were "incredulous" that people were purchasing it, realizing too late that form had become as important as function in the eyes of consumers. In an effort to combat the threat of the iPhone, RIM teamed up with Verizon to create a competing touch-based phone -- the Storm.
Verizon pressured RIM into speeding up development on the phone, resulting in a product that was riddled with bugs and issues when it launched in 2008. Despite the flaws, the product was heavily marketed and RIM sold 1 million in two months, leading to a lot of unhappy customers who wanted to return or exchange their devices.
The Storm was a spectacular failure that impacted RIM's relationship with Verizon, ruined its reputation, and cost upwards of $100 million. After the failure, the company was demoralized and at a crossroads, unsure of where to take the company going forward and how to compete with the iPhone and other smartphones in a landscape that was radically different from what the company knew.
RIM was unable to fully recover from failure of the Storm and find its footing, eventually leading to the path that it's on today. "The Storm failure made it clear we were not the dominant smartphone company anymore, said RIM co-CEO Jim Balsille. "We're grappling with who we are because we can't be who we used to be anymore, which sucked...It's not clear what the hell to do."
The full excerpt from the book is worth a read and can be found over at The Wall Street Journal. The book itself is coming out on May 26 and can be pre-ordered from Amazon for $21.