Apple Watch News Apps Bring At-a-Glance Headlines to Your Wrist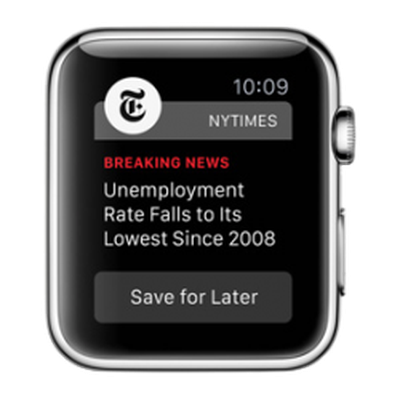 Apple Watch will bring the world's latest breaking news and headlines to your wrist from a wide variety of publications and sources in the United States and abroad, including the Associated Press, ABC News, Bloomberg, Breaking News, CNN, CNBC, CBC News, Circa News, Fresco News, De Telegraaf, South China Morning Post, The Economist, The Guardian, The New York Times, The Washington Post, USA TODAY and Yahoo News Digest.
Many of the Apple Watch news apps will provide breaking news notifications and bite-sized headlines through Glances, while some provide additional functionality such as expanded views and personal feeds of news stories, reviews, opinions and more. As the Apple Watch becomes more widely adopted, and launches in additional countries, more apps from well-known news publications should begin to surface on the App Store.