YouTube today announced changes to its YouTube Data API, causing many older apps on various devices to stop functioning. On the second-generation Apple TV or older, the YouTube channel will no longer be accessible, and on the iPhone, iPad, and iPod touch, iOS 7 or later is required for the YouTube app to function.
Second-generation Apple TV users will have no way to watch YouTube videos on their devices after today, but iOS device owners with versions of iOS older than iOS 7 can use mobile YouTube in Safari to watch videos. YouTube is sharing the news via a discontinuation video that's being shared on all older devices.
If your device supports iOS 7 or above, you can download the YouTube app from the App Store. If not, visit m.youtube.com in your mobile browser to access YouTube.

If you're using Apple TV 3rd generation, you can get the latest version of the YouTube app by updating your software:

Select Settings > General > Update Software
If there is an upgrade available, click Download and Install
If you're using Apple TV 2nd generation or older, unfortunately there's no current way to watch YouTube on these devices.
Attempting to use the YouTube app on an older iOS device or on an older Apple TV still lets users watch videos at the current time, but the discontinuation video above is always the first result, suggesting access will be shut down shortly after YouTube notifies everyone about the upcoming API change.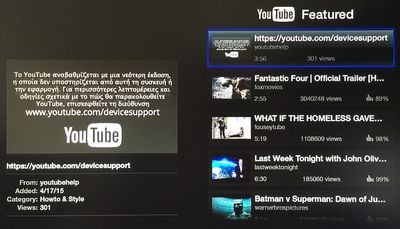 The YouTube channel on a second-generation Apple TV
Today's API change affects several other older devices in addition to the Apple TV and iOS devices, including those running old versions of Google TV and many smart televisions and game consoles. The official YouTube app will only be available on most 2013 and newer Smart TVs, blu-ray players, game consoles, and other streaming devices.
Update: According to a blog post from Google, beginning in early May, those who have older devices with unsupported YouTube apps will only see the discontinuation video. In late May, all apps using the old API will display 410 Gone HTTP responses.
Until that time, YouTube apps on older Apple TVs and iOS devices will work as normal, aside from displaying the warning video.