Ahead of the Apple Watch launch, several companies have debuted charging accessories, bands, cases, and more for the Apple Watch, and as of today, popular iOS accessory maker Mophie is also offering its own version of a Watch Dock for the Apple Watch.
The Watch Dock from Mophie is constructed from a silver aluminum and it offers black leather accents on the base and behind the watch. The dock is designed to work with the charging cable that ships with the Apple Watch, allowing users to simply place their watches on the stand at night for easy charging.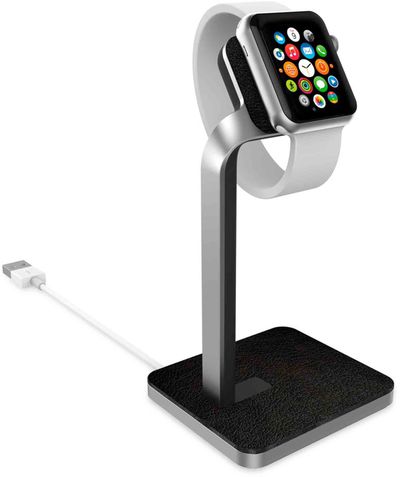 The slightly elevated, slightly angled charging position makes it easy to use your watch's touchscreen and other features while charging. Use the dock at home or in the office knowing your watch is charging in comfort and you'll never have to mess with tangled cables again.
Mophie's Watch Dock measures in at 4.64 x 2.87 x 2.52 inches and it weighs 3.86 ounces. Design wise, Mophie's dock is minimalist and elegant, offering a slimmer body than other competing products from companies like Griffin and Twelve South.
The Mophie Watch Dock can be pre-ordered from the Mophie website for $59.95. According to the website, it will ship out on April 24, the same day as the official launch of the Apple Watch.