Airlines Embrace Apple Watch With Upcoming Apps
At its Apple Watch event on March 9, Apple highlighted several apps that will be available on the Apple Watch, including an app from American Airlines, which will let users receive flight information, check in for their flights, and more.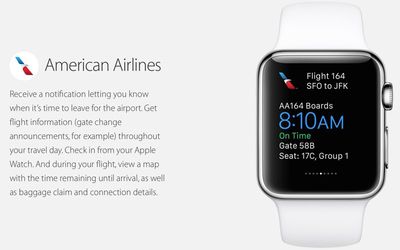 Since then, several other airlines have also announced upcoming apps for the Apple Watch, giving us a hint at some of the ways the Apple Watch will be used to make our lives easier. British Airways, for example, has just announced a British Airways app for the Apple Watch, which will be available beginning on April 24.
Through a glance option, which is accessed by swiping right on the watch face, the British Airways app will display a summary of a customer's next flight, offering details like flight number, flight status, a countdown to departure time, and the weather at the destination. All of that information will be available at a single glance, preventing users from needing to rifle through emails and open up apps to access flight details.
The app will also support on-wrist check-ins for flights, and it will deliver notifications to direct users to their appropriate gates. At certain airport terminals, such as Heathrow's Terminal 5, users will receive welcome messages powered by iBeacon.

British Airways' Apple Watch app
Earlier this week,
VentureBeat
asked several airlines about their plans for Apple Watch apps, which yielded information about two upcoming apps from Delta and United. The Delta app that's in development will deliver notifications about flights to users ahead of their flights, and it will give them access to the boarding pass stored on their iPhones.
Like the apps from other airlines, it will offer flight numbers, gate numbers, flight times, and other info. If a flight gets changed, for example, users will get a notification on their Apple Watch. There will also be a notification when a flight is approaching a destination city, with information about luggage pickup.

United Airlines wasn't prepared to share app screenshots of its upcoming Apple Watch app, but it did divulge some details about it. The app will offer at-a-glance information on upcoming flights, including gate numbers and status, plus it lets users view their flight reservations within the United Airlines Apple Watch app. It will also pull a traveler's boarding pass from the Passbook app, and it's able to alert users if flight times or gate numbers change.
Southwest and Virgin America told VentureBeat they were not working on Apple Watch apps at the present time, but the two airlines, along with other airlines, will likely create apps as they see their competition developing apps for the device.
The Apple Watch will become available on April 24, with pre-orders beginning on April 10. Developers have been hard at work putting the finishing touches on apps ahead of the launch, with many even flying out to Cupertino for guidance from Apple, so there should be a wealth of third-party apps available to consumers right on launch day.