Twelve South today revealed the BaseLift for MacBook, a "super-thin, microfiber-layered pad" that attaches to the bottom of any MacBook and can instantly fold up, similar to an iPad Smart Cover, to provide an elevated screen and angled keyboard to users on either a MacBook Air or MacBook Pro. Once attached, BaseLift for MacBook stays connected to the MacBook, and is thin enough to fit into "most bags and laptop cases" along with a user's computer.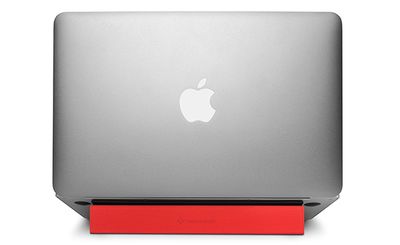 "If you have a MacBook, get a BaseLift," said Andrew Green, Creative Director of Twelve South. "Without a doubt, it's one of the best MacBook accessories we've ever invented. It is so simple and adds so much comfort for just $39, that everyone with a MacBook should have one. When I'm on a MacBook without a BaseLift now, I miss it terribly -- and that's the true test of a great accessory."
BaseLift aims to be more than a MacBook stand, with Twelve South claiming that the device acts as a buffer between the initial chilliness of a MacBook and even the heat given off when heavily using the device.
The BaseLift fits any current model of the MacBook Air and MacBook Pro, with the default BaseLift Pad aimed at the 11" MacBook Air and a few optional "Fit Strip" accessories included for users on 13" and 15" models. The company promises that the adhesive SurfaceGrip technology used to attach the accessory to a MacBook won't leave a sticky residue if a user ever chooses to remove the BaseLift Pad from the device.
The BaseLift for MacBook can be purchased right now from Twelve South's
official website
for $39.99, and is available in a red-black option. Although the
new MacBook
is not directly mentioned, the dimensions of the BaseLift suggest the product could be used on Apple's just-announced ultra-thin MacBook.