Apple today added a new "Free on iTunes" section in the iTunes Store, featuring free downloads of songs and full length TV episodes. The section replaces Apple's "iTunes Single of the Week", which previously offered free songs from popular and indie music artists.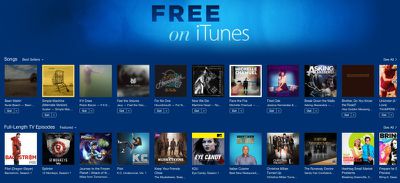 Currently, Apple is offering full-length TV episodes from shows including Fox's Backstrom, Syfy's 12 Monkey's, Disney Channel's KC Undercover, and MTV's Eye Candy. On the music side, Apple is offering downloads from artists such as Purity Ring, Jauz, Asking Alexandria, and Guster.
Apple's "Free on iTunes" section is live now, and it is likely that the company will offer new content every week as it has done with the iTunes Single of the Week and its App of the Week section.
Update: The new section appears to be U.S.-only for the time being.