Samsung Supposedly Wins Orders to Produce Apple Watch Components
Samsung has won the orders to produce Apple's S1 system-in-a-package for the Apple Watch, reports DigiTimes. The S1 produced by Samsung will combine multiple components including the processor, mobile DRAM, NAND flash, and other chips into one package.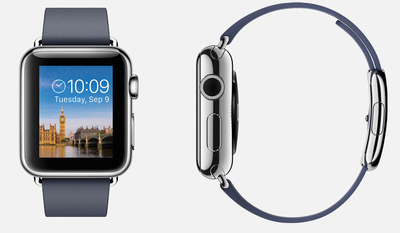 A report in November shared similar information, noting that Apple would be relying heavily on Samsung for iPhone 6 and Apple Watch components. Namely, Apple was said to be concerned about NAND flash, with its cheaper and slower TLC (triple-level cell) flash memory for larger-capacity iPhone 6 and 6 Plus models said to be the source of crashing issues. Those issues, along with Samsung's competitive prices, were said to be the primary reasons in bringing Apple back to negotiations with the South Korean company.
Apple is said to be targeting a March launch for the Apple Watch, as the company is said to be refining the device's "Watch OS" software and working on hardware components like the inductive charging mechanism. Apple Retail Store workers are also set to begin training during the week of February 9 ahead of the device's launch the following month.