Nokia Unveils Android-Powered N1 Tablet With iPad Mini-Inspired Design
During today's opening of the Slush 2014 conference, Nokia announced its new N1 tablet, the first device from the Finnish company following the sale of its mobile division to Microsoft. With its aluminum casing, curved styling and 7.9-inch screen, the N1 is a dead ringer for Apple's iPad mini.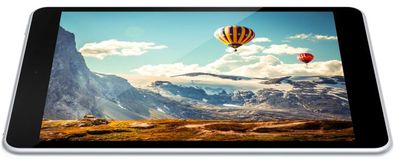 Powered by Android 5.0 Lollipop and Nokia's Z launcher, the Nokia N1 ships with a 2.3GHz Intel Atom processor, PowerVR GPU, 2GB of RAM and a 7.9-inch Retina-resolution display. Other hardware specs include an 8-megapixel rear camera, a 5-megapixel front camera and connectivity options that include 802.11a/b/g/n/ac and Bluetooth 4.0.


Similar to Apple's Lightning connector, the N1 includes a reversible USB Type-C connector for charging and syncing. The port is located on the bottom edge of the tablet and is nestled between the tablet's two speaker openings. When it launches next year, the N1 will be available in Lava Grey and Natural Aluminum colors with one storage capacity option of 32GB.
The N1 will ship with Nokia's flavor of Android and the company's branding, but it will be manufactured and distributed by Nokia partner Foxconn. Foxconn will handle support and most other product responsibilities. The N1 will launch first in China in Q1 2015 for $249USD with plans for expansion to other regions.
Nokia is just the latest manufacturer to announce a tablet device that looks remarkably similar to Apple's iOS device lineup. Just weeks ago, Lenovo introduced its S90 tablet that shares a number of design elements with Apple's iPhone 6 and 6 Plus, with Lenovo even using marketing images reminiscent of Apple's advertising.