Unsealed GT Advanced Court Documents Give Insight Into Apple's Business Practices
Though Apple and GT Advanced fought to keep documents related to their sapphire agreement sealed after GT's bankruptcy filing, a judge recently ruled that the documents did not contain trade secrets and would be largely unsealed.
One of those documents, an unedited affidavit from GT Advanced COO Daniel Squiller, gave insight into the terms of the deal between the two companies, but another, the original privacy agreement that GT Advanced signed, gives a rare look into how Apple does business with its suppliers.
According to the documents, Apple and GT's sapphire deal was known internally as "Project Onyx," and was subject to strict confidentiality agreements. GT employees were forbidden from referring to Apple or the project by anything other than code names, and they were also required to undergo training regarding confidentiality and security in addition to signing extensive non-disclosure agreements. Only employees who needed to know about the project were given information, in order to keep the deal as quiet as possible.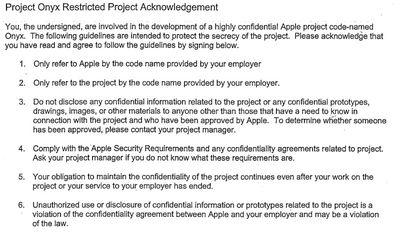 GT was required to establish a qualified security team and adhere to strict guidelines that called for 24/7 surveillance, credential screening, tracking of all confidential supplies, and the secure destruction of all scrap materials to prevent potential leaks.
As part of the agreement, Apple was able to audit records, inspect facilities, and interview personnel to ensure compliance, and any evidence of non-compliance with the non-disclosure agreement would result in a $135,000 "Security Fee" to pay for the cost of the audit and an increase in Apple's security efforts.
In addition to agreeing to Apple's strict access restrictions, GT Advanced was required to maintain liability insurance, and comply with Apple's Supplier Code of Conduct, which demands safe working conditions for employees. GT was also required to fulfill orders for replacement goods for seven years after "the date Apple designates as end-of-life" for the Apple product featuring sapphire, as well as maintain an "adequate stock" of materials for Service Units.
The privacy agreement that GT Advanced was required to sign is likely similar in nature to the agreements that Apple gives to all of its suppliers, giving us a glimpse of the lengths Apple goes to in order to maintain secrecy. Despite Apple's privacy efforts, the company still sees extensive product leaks. For example, ahead of the iPhone 6 and 6 Plus release, hundreds of part leaks divulged information on nearly every aspect of the two devices, and a handset was even seen in the wild days before its official release.