Apple's Power Mac G5 has a distinctive aluminum design that was disruptive when it launched in 2003. Inspired by this milestone in design, designer Klaus Geiger has "upcycled" this aging Apple hardware into furniture because the machines are "simply too good to be disposed of." (via DesignBoom)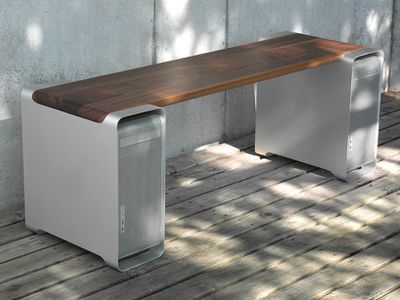 As part of a project aptly titled "Benchmarc", Geiger has carefully created a sitting bench using a carved wooden plank that forms a bridge between two Power Mac G5 units. The machining on the wood is aligns the curve perfectly with the shape of the Power Mac chassis.


Beyond benches, Geiger also has crafted a movable conference table, file cabinets and more using discarded Power Mac machines. Additional concept renderings include an entire office full of furniture designed around old Power Mac G5 units.
Though interesting as a one-off furniture design project, this isn't the first time Apple hardware has been recycled. Both the iMac and the Mac Pro have been converted into fish aquariums, while a Power Mac G3 became an unusual roadside mailbox.