Apple is opening two new retail locations in Sarasota, Florida and Manchester, New Hampshire this week, with the Florida location opening on Thursday, October 16 and the New Hampshire location opening on Saturday, October 18.
Apple's new Sarasota location, at the brand new $315 million University Town Center mall, will open on a Thursday rather than a Saturday as that day marks the grand opening of the shopping center. The University Town Center mall is an indoor facility that features an array of retail stores and restaurants.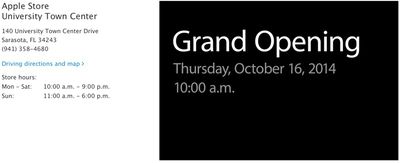 The upcoming Sarasota Apple Store will be Apple's 17th store in Florida, and its Thursday debut date falls on the same day as Apple's media event where it is expected to introduce both new iPads and Retina iMacs.
Apple's new store in Manchester, New Hampshire is located at the Mall of New Hampshire, a multi-story indoor shopping center that is home to 125 retail stores and restaurants. Occupying a space that spans about 6,800 square feet, the Apple store joins two other retail locations in New Hampshire, in Nashua and Salem.
Both stores will open at 10:00 a.m. local time and as is common with new store openings, employees will likely hand out T-shirts to the first customers to visit each new location. The Manchester store and the Sarasota store have both begun accepting reservations for workshops and Genius Bar appointments.