Adobe Updates Line of iOS Apps With New Features, Enhanced Creative Cloud Syncing
At its Adobe MAX conference today, Adobe is announcing updates for nearly all of its iOS apps, bringing new features that emphasize the creation of shapes and brushes along with enhanced syncing with the company's Creative Cloud services. The updates come alongside a new Creative SDK public beta to allow developers to build mobile apps connecting to Creative Cloud, as well as a number of enhancements to the core Creative Cloud apps.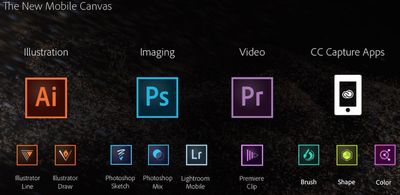 Building on its existing Adobe Kuler app, which allows users to create color palettes using any photo and which is now being rebranded Adobe Color CC, the company is now rolling out two additional "Capture" apps for mobile: Adobe Brush CC, which turns photos into brushes for use throughout Photoshop and Illustrator apps, and Adobe Shape CC, which automatically converts high-contrast photos of objects into vector art for use in Illustrator.

Adobe Shape CC (left) capturing a shape to be used in Illustrator (right)
Meanwhile, the newest version of
Adobe Photoshop Mix
is now a universal app for both iPad and iPhone, while
Adobe Photoshop Sketch
brings new acrylic and pastel brushes and integration with brush sets created in
Adobe Brush CC
.
Adobe Illustrator Line now allows users to utilize content from the Creative Cloud Market and includes new smart spacing and grid tools. Adobe Lightroom for iOS now allows specified users to comment on photos shared through Lightroom's web interface, and includes additional language support in addition to the ability to sync GPS information from the iPhone with Lightroom desktop.

Adobe Illustrator Line
Finally,
Adobe Premiere Clip
lets users edit video shot on an iPhone or iPad right from the device, or send to the full Premiere Pro CC for more advanced editing.

Adobe Premiere Clip
Core Creative Cloud apps are also seeing a number of updates today, including new 3D printing support for
Photoshop CC
, a new Curvature tool for
Illustrator CC
, interactive EPUB support for
In Design CC
, SVG and Synchronized Text support for
Muse CC
, and 4K/Ultra HD viewing support for
Premiere Pro CC
.
All of Adobe's updated iOS apps require a free membership to Adobe Creative Cloud, while desktop apps like Adobe Photoshop CC and Adobe Illustrator CC require separate subscriptions. Download links for all of the apps can be found below, while the full set of updates for Creative Cloud are expected to be available to members by the end of the day.
- Adobe Brush CC [Direct Link]
- Adobe Shape CC [Direct Link]
- Adobe Color CC [Direct Link]
- Adobe Photoshop Sketch [Direct Link]
- Adobe Photoshop Mix [Direct Link]
- Adobe Lightroom for iPad [Direct Link]
- Adobe Lightroom for iPhone [Direct Link]
- Adobe Illustrator Draw [Direct Link]
- Adobe Illustrator Line [Direct Link]