Since it opened in 2006, Apple's iconic glass cube Fifth Avenue retail store in New York has been praised for its design and its ability to attract a large amount of customers daily. Now, author Vicky Ward (via ifoAppleStore) has shared new details about the store's beginnings on the plaza of the General Motors Building in her book The Liar's Ball: The Extraordinary Saga of How One Building Broke the World's Toughest Tycoons.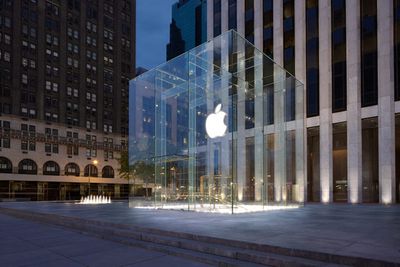 Ideas for a store on Fifth Avenue originally began in November 2003 when former Apple CEO Steve Jobs met with property mogul Harry Macklowe after being connected through Apple's former Vice President of Real Estate George Blankenship. Jobs initially wanted a store that "would be open 24/7", and worked with architects from architectural firm Bohlin Cywinski Jackson who designed Apple's store in SoHo, Manhattan.
It was at that point where Jobs, Macklowe, and the designers thought of placing a square glass cube in an unused basement within the GM Building's Plaza:
What happened next has long been the subject of speculation and some dispute: Who came up the idea of placing a 30‐foot square glass cube — the world's "smallest skyscraper" — in the middle of the GM Building plaza? In that lightbulb moment, an unused basement that had caused headaches for its owners for more than 40 years morphed into what is arguably the most famous retail space in the world.

Said Macklowe: "[Jobs] presented to me and I presented to him. He had this cube, which was quite different from what you see there today, and I had a cube that was quite different from what we see today as well. It took us half an hour to make a deal."
Jobs initially wanted a 40-foot cube, leading the designers to set up a scaffolding mockup of the building. However, once Jobs and other Apple executives went to go see the mockup, all agreed that it was too big and obscured the vision for the store. However, Macklowe also showed off a 30-foot cube built secretly underneath, which caused Jobs and the Apple executives to agree to the size.
From there, Macklowe convinced retailers and a CBS studio residing in the area to move, as construction began while Jobs waited. The store eventually opened on May 19, 2006 to much public attention, and went on to become one of Apple's busiest and most iconic stores.
Macklowe's real estate attorney also later regretted not negotiating a higher "percentage rent" with Apple, which saw his client receiving a portion of the store's profits. Macklowe called the negotiations "horrendously low," and claims that Apple had no idea just how well the store was going to do in business per year.