Purported Schematics and Details on iWatch Show Rectangular Body, Round Sensor Plate
With just one day to go until Apple's media event where it is expected to show off not only the iPhone 6 but also its much-rumored "iWatch" wearable device, last-minute leaks and rumors are continuing to roll in. The latest involves schematics and details on the iWatch, and while it is difficult to assess the validity of the claims and images (which have been reposted to Imgur) given that they come from an anonymous Reddit post, the slide images are detailed enough that they are worth highlighting as a possibility.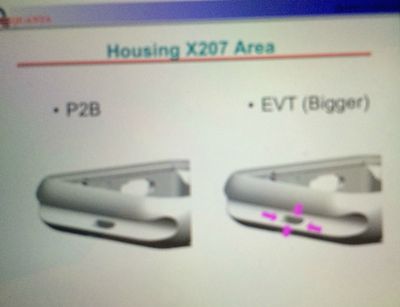 The poster claims the iWatch will include a microphone, speaker, and support for Siri, and be waterproof to 20 meters with battery life of over a day. The device will reportedly come in eight different varieties as four "colors" in two sizes each.


Purported schematics are labeled as coming from Quanta, which has been reported to be Apple's manufacturing partner for the device. The majority of the slides appear to show comparisons of how various parts have evolved between an earlier prototype stage (P2B) and the engineering validation test stage (EVT).


As shown in one poor-quality and obviously manipulated picture of what is said to be the device's housing, the body would be somewhat rectangular in shape, with a large circular region centered in the bottom where the device's health and fitness sensors are to be located to contact the skin.
While an assortment of iWatch rumors have pointed to displays of around 1.5 inches or as high as 2.5 inches, there have yet to be any leaks of claimed physical parts for the device, making it difficult to assess schematics such as these. At any rate, their validity will apparently become clear tomorrow as Apple officially takes the wraps off of the iWatch.
Update 8:08 AM: As noted by A Tech Website, the format of the slides does indeed match that used sometimes by Quanta for its confidential presentations.