Campers Already Lining Up for iPhone 6 at Flagship 5th Avenue Store
Despite the fact that there are still five days to go until Apple's September 9 media event, customers hoping to purchase one of Apple's new devices have already begun lining up at the flagship 5th Avenue Apple Store in New York City.
Apple is expected to announce the 4.7 and 5.5-inch iPhone 6 at the event, along with its much-rumored wearable device and possibly a mobile payments initiative. Only the iPhone 6 is expected to ship to consumers in September however, and not until later in the month. People camping out now may be waiting more than two weeks to get their hands on one of Apple's new devices.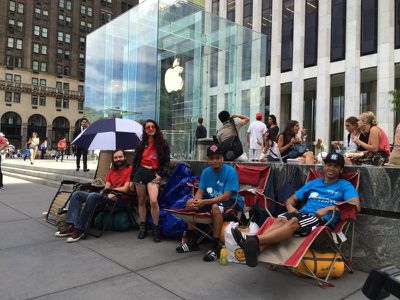 Campers waiting outside the 5th Avenue Apple Store, via

CNBC


As is typical, many of the campers lining up early are participating in publicity stunts to garner recognition for their companies, given the media attention early waiters tend to receive. Campers seem to be arriving earlier and earlier each year in order to outdo past campers. For the launch of the iPhone 5c/5s, campers began showing up on September 6, but people are going to even further extremes this year.
CNBC interviewed several of the campers, some of which arrived before the month of September even began. Brian Ceballo and Joseph Cruz, representing BuyBackWorld, arrived on Sunday, August 31 with the hope of beating a previous record for camping out for an iPhone. They plan to wait for 19 days, a day longer than the 18 day record.
Ceballo and Cruz have already profited, accepting $1,250 to give up the first place in line to Jason and Moon Ray, who are promoting a health app.
Apple's iPhone 6 event will take place on Tuesday, September 9, but it remains unclear which devices will be unveiled and which will be available for shipping in the near future. Both the company's wearable device and its 5.5-inch iPhone may not ship until later in the year or early 2015, leaving campers to pick up a 4.7-inch iPhone 6.
Based on past timelines, the 4.7-inch iPhone 6 could become available beginning on Friday, September 19.