iTunes 11.3 Expands iTunes Extras as Apple TV Finally Adds Support and Apple Plans for iOS 8
Apple today released iTunes 11.3, including several improvements to iTunes Extras, including new features for HD movies. This new content will be added automatically to previously purchased iTunes movies for free.
Alongside the launch of iTunes 11.3, Apple has also announced that the Apple TV is finally supporting iTunes Extras with the 6.2 software update released late last month. The first-generation Apple TV supported iTunes Extras, but the feature was lost when Apple revamped the Apple TV back in 2010.
Finally, Apple has also announced that iTunes Extras will be coming to iOS with the public release of iOS 8, which is slated for this fall.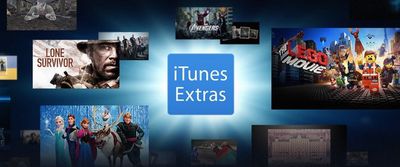 iTunes 11.3 includes all-new iTunes Extras for HD movies. iTunes Extras can include behind-the-scenes videos, short films, high-resolution image galleries, director's commentary, scenes, and more. These immersive iTunes Extras can also be enjoyed on Apple TV with Software Update 6.2 now, and will be available on iOS 8 this fall.

New iTunes Extras will be automatically added to your previously purchased HD movies as they become available - at no additional charge.
iTunes 11.3 can be downloaded from the software update tool in the Mac App Store or Apple's iTunes web page.
Update: Apple has added a feature page [iTunes Store] to the iTunes Store highlighting iTunes Extras and compatible movies. The page also includes a promotional video for iTunes Extras.