Apple Updating iTunes U With New Course Creation and Discussion Features for iPad
Apple today announced it is updating its iTunes U app with new iPad-related features that'll make it easier for teachers and students to use the tablet device for their online courses. These new features will be available starting July 8th.
"Education is at the core of Apple's DNA and iTunes U is an incredibly valuable resource for teachers and students," said Eddy Cue, Apple's senior vice president of Internet Software and Services. "iTunes U features an amazing selection of academic materials for everyone around the world. Now, with the ability to better manage and discuss educational content, learning becomes even more personalized on iPad."
The new app updates will allow teachers to create full courses completely on their iPad by importing content from iWork, iBooks Author or educational apps in the iOS App Store. Teachers also can use the camera on the device to incorporate photos and videos into the course material.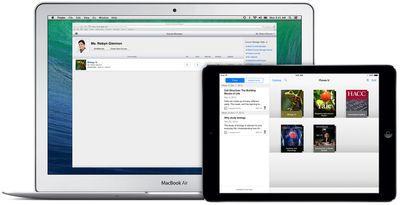 iPad-owning students enrolled in an iTunes U course will benefit from the update with a new discussion feature that allows them to collaborate with both teachers and other students in the class. Students can follow discussions and receive push notifications when new topics are created or new comments are added to an existing discussions.
The iTunes U app is a free download for the iPhone and iPad. [Direct Link: iTunes U]