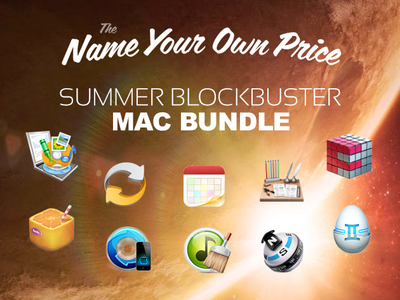 StackSocial has just launched a new "Summer Blockbuster Mac Bundle" that offers up to 10 apps with 10% of all profits going to one of three charities. Buyers can "name their own price" for the bundle and every purchase includes the following three apps:
- DiscLabel ($40)
- SyncMate Expert 5 ($40)
- Tangerine! ($25)
If a buyer pays more than the current average price displayed on StackSocial's sales page for the bundle, the buyer will receive all 10 apps offered which includes the three apps listed above plus the following seven apps:
- Path Finder 6 ($40)
- Fantastical ($20)
- Flux 4 ($125)
- Gemini ($10)
- Logoist ($20)
- Tunes Cleaner ($40)
- MacX iPhone DVD Ripper ($40)
The total retail value of the bundle is $400. As with its last "Name Your Own Price" bundle in April, StackSocial is encouraging higher purchase prices by giving away an 11-inch MacBook Air in a random drawing with entries earned by taking a position on the price leaderboard while the bundle is available for purchase.
The bundle will be on sale until July 6.
MacRumors is an affiliate partner of StackSocial.