iOS 8's Variable Touch Sizing Bringing 'Surface Pressure' to FiftyThree's 'Pencil' Stylus
FiftyThree announced today (via TechCrunch) that its "Pencil" iPad stylus will be updated with a new Surface Pressure feature when iOS 8 debuts later this year. This feature allows users to change the thickness of the lines they create by controlling how much of the pencil tip comes in contact with the iPad screen.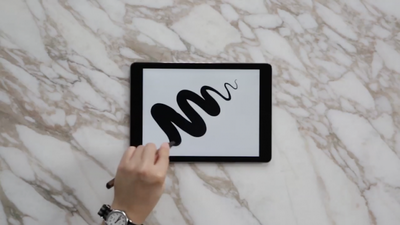 Pencil's tapered tip was inspired by the expressive richness of real pencil points, which allow creators to change the character of the line with the angle of the tip. With Surface Pressure you'll be able to control the lines you create based on how much of Pencil's tip or eraser is in contact with your iPad. Use the point for fine details or the angled edge for broad strokes. Surface Pressure unlocks new capabilities for each of Paper's tools—fill faster as you draw, shade as you sketch, or carve away in varying widths as you erase.
This Surface Pressure option is made possible by iOS 8's variable touch sizing, which lets developers interpret touch along a range of point sizes that vary from a single point to a broad circle. The ability to adjust line thickness on the fly will provide a significant advantage to Pencil users, who now must control thickness via an in-app setting that is changed manually.
FiftyThree
released
the Bluetooth Pencil stylus last November as a companion to its popular
Paper
drawing app. It is available in either Graphite (US$60) or Walnut ($75) for consumers who live in the US or Canada. Surface Pressure will be included in a free Pencil software update, which will be released this fall following iOS 8.