'Parallels Access' Brings Remote Desktop Access to iPhone
Parallels has updated its Parallels Access app, which allows iPad users access their Mac or Windows desktops on their tablets, with iPhone support, allowing iPhone users to also access their desktops on the go.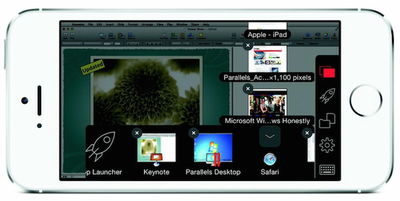 "Parallels Access received a tremendously positive reception from iPad users, and now we are extending our solution to millions of Android and iPhone users. While traditional remote desktop products are trying to show a large desktop on a small mobile device, we worked hard to make remote access from mobile devices a truly simple and effective experience," said Jack Zubarev, president of Parallels.
The update also includes the ability to use an iPhone or iPad's microphone remotely for desktop apps that may require them, the ability to change the screen resolution, the ability to wake a sleeping remote computer, Facebook login integration and a new file browser. The browser allows users to browse and open files on their iPad or iPhone.
Users must download the free
Parallels Access
app on both their desktop of choice and iPad or iPhone. They can then launch their desktop apps in "full-screen mode" via a SpringBoard-like App Launcher. While the apps are free, users must subscribe to the service, which costs $19.99 a year for up to five remote desktops. Parallels also offers a two-week free trial.
Parallels Access is a universal app that's available for free in the App Store. [Direct Link]