Samsung Announces Galaxy Tab S With Super AMOLED Display, Multi-User Fingerprint Sensor
Samsung today introduced a new version of its Galaxy Tab, the Galaxy Tab S, at an event in New York entitled "Tab Into Color." Available in both 8.4 and 10.5-inch sizes, the Galaxy Tab S includes a high-resolution (2560 x 1600) Super AMOLED display. According to Samsung, the Tab S's display has a more accurate color range, better contrast, and higher outdoor visibility than an LCD display.
Billed as the company's new flagship tablet, the Galaxy Tab S is Samsung's "best tablet yet," according to the company, and also its thinnest and lightest at 6.6mm. "Tab S is guaranteed to turn heads wherever you go, and to give it a more premium look, we trimmed it in gold to give it an aura of luxury," said Michael Abary, senior VP of marketing for Samsung Electronics America.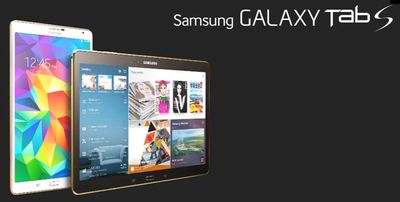 Along with a built-in fingerprint sensor, the Galaxy Tab S includes a "Sidesync" feature that mirrors one of the Handoff features that Apple announced with iOS 8. Sidesync allows the Galaxy Tab S to answer phone calls routed through a Samsung Galaxy S5 smartphone if both devices are on the same WiFi network. The Tab S is also able to remotely access a PC and multiple Tab S tablets in the same room can connect with one another.
Samsung's fingerprint sensor allows multiple users to share a tablet, accommodating up to eight different users. A fingerprint scan loads different users based on fingerprint, and also integrates with a new Kids Mode, allowing children unable to enter a password to unlock the Galaxy Tab S using a finger.
Samsung's Galaxy Tab S will run Android 4.4 (KitKat) and with its efficient display, it offers 11 hours of battery life. It will come pre-loaded with a slew of apps like Papergarden, an interactive magazine viewer, and the Galaxy Gifts widget, which will provide various offers like 90 days of free Google Music. Accessories for the Tab S include a Book Cover with multiple viewing angles and a bluetooth keyboard.
Available in brown and white, the WiFi versions of the tablets will be available in the U.S. in July, with LTE versions following shortly thereafter. The 10.5-inch version will retail for $499, while the 8.4-inch version will retail for $399, pricing on par with Apple's iPad lineup.
Apple is said to be working new versions of the iPad Air and the Retina iPad mini, but those are not expected to launch until the fall. The tablets are expected to include an A8 processor, an upgraded camera, and a Touch ID fingerprint sensor.