Apple Reduces Refund Times in Effort to Boost Online Sales and Customer Satisfaction
Apple has improved its return policy, offering faster refunds for customers who purchase items online, reports Reuters. Apple was able to shorten the refund processing time from 10 days to less than a week by using an expedited shipping method to send devices back to the company for return.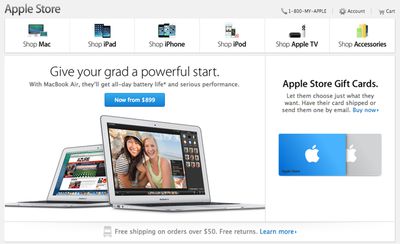 According to retail-intelligence firm StellaService, Apple switched to FedEx 2Day service last November during the holiday shopping season and has continued to use the service, despite the greater upfront cost associated with the faster shipping method. Customers will not incur any additional costs for Apple's decision to use FedEx, notes a source "with knowledge of the new procedure."
StellaService researchers first noted the improvement in refund processing times in November, but chalked it up to a temporary measure for the busy holiday season. The company, which orders items from Apple's website several times a day for research purposes, also discovered that packages were stamped with FedEx 2Day, rather than a Newgistics prepaid label.
Apple is going against the grain by investing in the returns process, an area that companies often trim because it does not help their bottom line. CEO Tim Cook has repeatedly said Apple does not have a profits-first policy, but instead prides itself on delivering a quality experience to its customers.
This focus on the overall experience benefits Apple's brand reputation among consumers as the company routinely leads its competitors in customer satisfaction. Apple recently reclaimed its spot as the highest ranked tablet manufacturer in J.D. Power's latest U.S. tablet customer satisfaction study, earning a 5-star rating and edging out rival Samsung.