Since Thunderbolt ports can support up to six peripherals in a daisy chain, which is a wiring scheme where multiple devices are chained together in a certain order, Macworld decided to test how many devices they could daisy chain together with the new Mac Pro's six Thunderbolt ports, four USB 3.0 ports, one HDMI port and two gigabit Ethernet ports.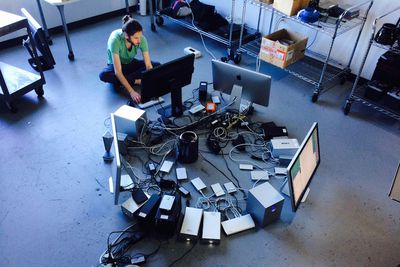 Macworld named the test the "Mac Pro Daisy Chain Challenge" and was able to connect a total of 42 peripheral devices to the Mac Pro.
We connected 36 drives (19 Thunderbolt, 15 USB, 2 FireWire 800) with a combined capacity of 100.63TB. In addition to the drives, we also connected two Thunderbolt docks (the Belkin Thunderbolt Express Dock and the CalDigit Thunderbolt Station, an Apple Thunderbolt Display, two Apple Cinema Displays, and one HP Z Display Z27. All this to a single Mac Pro.
Only a dozen of the drives were being powered from the cables connecting them to the Mac Pro. The 24 remaining drives required external power and had to be plugged into three power strips with an attached Watts Up power meter. The combine power draw when Macworld ran a script that copied data from the Mac Pro's internal flash storage to the drives was 865 Watts.
Through Mac OS X's Activity Monitor, the lab found that there was a combined throughput of 3 Gbps. The rate slowed as the fastest drives, of which OWC's Mercury Helios was the fastest, finished transferring data.
The lab also found that the daisy chains didn't affect the performance of a single drive working alone. Rather, the location of the drive within the daisy chain affected performance. For instance, one drive's average write speed was 709.8 Mbps when tested at the beginning of the daisy chain and without a daisy chain and only 556.7 Mbps when placed at the end of the chain.
The full list of devices connected to the Mac Pro, along with more information on the challenge and future tests can be found at Macworld.