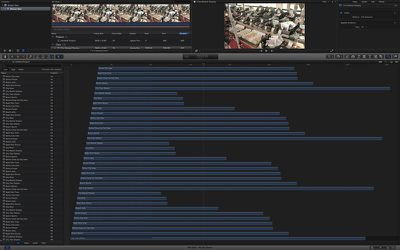 After waiting for several years for Apple to release a new professional tower, the company finally released the new Mac Pro last year. With dual-GPUs and an innovative cooling system, the diminutive machine has impressed professional users.
FCP.co decided to test out Final Cut Pro X and their well-equipped 8-core Mac Pro to absurd limits. The site put 1600 connected clips into the GUI, and actually got the Mac Pro to play 50 'layers' of 4K video for a few seconds before it began dropping frames. It also made a 500,000 pixel wide project, useful perhaps for making (extremely wide) digital signage projects. Finally, the site successfully made a 558-day video time line -- roughly a year and a half.
We pushed FCPX and the Mac Pro to silly limits, of course nobody will make a year long or a 500,000 pixel wide timeline, but it's good to know the combination will go that far.

It seems that the real limitation is a hardware one, yes FCPX will do 16K, but you have to have the storage bandwidth to supply the huge number of pixels per second. When creating that huge timeline, we used the same clip over and over. Making the same timeline from different shorter clips wouldn't be as easy as we think very large numbers of clips within FCPX will slow the machine down.

Apple have however, built a combination that will be good for nearly all different media sized projects within the foreseeable future. The Mac Pro and FCPX handle 4K like SD, so 8K should be fine.
FCP.co
notes that
most of the limitations occur
with the hardware, not artificial limitations with Final Cut Pro X itself.