Screenshots from the latest version of North Korea's home-grown "Red Star" Linux operating system reveal a striking resemblance to OS X, as shown in a new report from IDG News Service. The new look seen in version 3.0 of the software replaces the Windows-inspired design of version 2.0.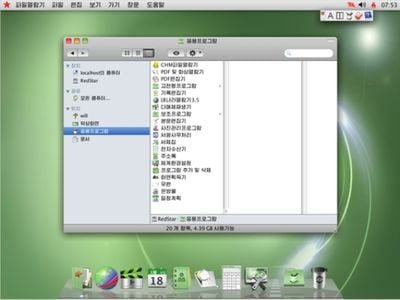 If imitation is the sincerest form of flattery, might the folks in Cupertino be pleased when they see the latest version of North Korea's home-grown operating system?

Version 3.0 of Red Star Linux presents users with a radical refresh of its desktop design, one that closely resembles Mac OS X.
Screenshots of the operating system were provided to IDG by Will Scott, a visiting professor at Pyongyang University of Science and Technology (PUST) who bought the OS in Pyongyang from a local Korea Computer Center (KCC) dealer. KCC is the government's information research technology center and has been in charge of developing Red Star Linux for more than a decade.


Red Star OS is the official operating system of North Korea and is localized for the country. It features Naenara ('My Country'), a version of the Mozilla Firefox browser that connects to the country's nationwide intranet. Version 3.0 shown above was released last year, but has until now not received significant attention outside of North Korea due to the country's relative isolation from the world community.
Note: Due to the political nature of the discussion regarding this topic, the discussion thread is located in our Politics, Religion, Social Issues forum. All forum members and site visitors are welcome to read and follow the thread, but posting is limited to forum members with at least 100 posts.