Apple Adds 'Red Bull TV' Action Sports Channel to Apple TV
Apple today expanded the lineup for its Apple TV set-top box, adding a new Red Bull TV channel with free action sports content carrying branding from the energy drink company. As noted by Variety, the channel includes coverage of live events, as well as curated playlists and on-demand content.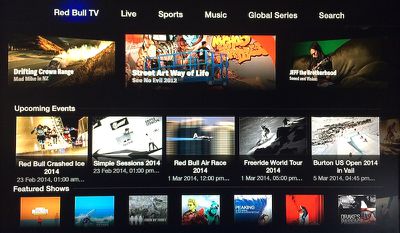 Red Bull TV live programming, films, shows and clips are now available to Apple TV users worldwide for free. Launched in 2010, Red Bull TV features "inspirational entertainment programming" designed to promote the beverage and its high-action brand image. Content includes live global events and sports, music and lifestyle entertainment.
Red Bull TV has also been available as an iOS app for several years.
Red Bull TV is just the latest in a long line of channel additions for the Apple TV over the last six months, with the most recent major expansion coming last month with the addition of Watch ABC, Bloomberg, Crackle, and KORTV.