Last year's hit game Tomb Raider, which was critically praised for successfully re-imagining iconic video game character Lara Croft for modern times, is finally available on Mac. The Mac version of the action adventure game, which was ported by Feral Interactive, arrives just under a year after it first launched on PC, PlayStation 3 and Xbox 360.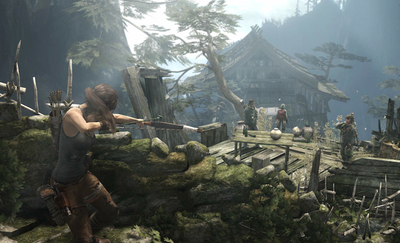 When a young Lara Croft is shipwrecked on an uncharted island, she enters a fight for survival armed with nothing but her instincts. Help Lara perfect her natural gifts as she embarks on a perilous journey to save her friends and escape the island's murderous inhabitants.

Scavenge vital resources, upgrade Lara's gear and improve her exploration, combat and survival skills to fight back against vicious enemies. Jump and climb through dense forests, treacherous mountains and WWII bunkers to discover how an ordinary young woman became Lara Croft, Tomb Raider.
The game launches exclusively on the Mac App Store today, and will arrive on other digital storefronts, like Steam, on January 30. Although Tomb Raider is primarily known for its single-player campaign, it has an online multiplayer component. That multiplayer is not available on the version purchased from the Mac App Store. Players who wish to play online multiplayer will have to purchase the game on Steam, as the game requires a Steam account to take part in its Mac-to-Mac only online play.
Players will need Mac OS X 10.9.1, 14GB of free hard drive space, 4GB RAM, a 512MB graphics card and a processor with at least a 2.0 GHz output. Intel HD 4000 graphics cards will require an Intel i7 CPU or better.
Tomb Raider is available in the Mac App Store for $49.99. [Direct Link]