Google Launches 'Google Play Movies & TV' App, iOS Chromecast Users Gain Alternative to iTunes
Google today released a Google Play Movies & TV app for iOS, allowing iPhone and iPad users to watch movies and TV shows that have been purchased on Google Play. In addition to providing a way for iOS users to stream Google Play content directly to their devices, the app is also a boon for Chromecast users with iOS devices, as it will let them stream movies and TV shows purchased from Google Play to the Chromecast device.
Watch your favorite movies and shows instantly on your iPhone, iPad, or iPod touch from wherever you are. Buy or rent movies by visiting Google Play Store on any computer and watch them from any device over Wi-Fi using the Google Play Movies & TV app.
Limited content for iOS users has been an issue for Chromecast since the device was first launched in July. Though Chromecast was designed to compete with the Apple TV and Roku set top boxes, Chromecast users on iOS have been restricted to movie and TV content from apps like Netflix and YouTube that have implemented Chromecast support, while Android users have had prior access to movies and television shows from the Android version of Google Play Movies & TV.
Other apps, like HBO GO and Hulu Plus implemented Chromecast support after the device was launched, but it still lacked a comprehensive alternative to iTunes.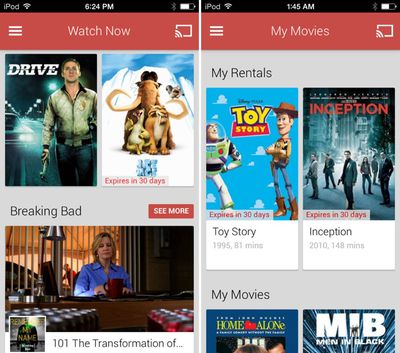 With the addition of Google Play Movies and TV to iOS, Chromecast users have a much larger library of content to access, which puts the device more on par with the Apple TV. The Apple TV has long had support for iTunes, which gives users the opportunity to purchase movies and television shows. Chromecast users with iOS devices, like Apple TV users, can now access a service that provides a wide range of recent movie and TV show downloads.
iOS users cannot purchase content directly within the Google Play Movies and TV app due to Apple's restrictions, so movies and and shows will need to be purchased on the Google Play Store on a computer before the content can be accessed within the iOS app to be streamed to a television.
As noted by Gizmodo, content sent to Chromecast from the Google Play Movies and TV app will be in full HD, but content viewed on an iPhone will be limited to standard definition. There are a few other drawbacks with the app as well -- content can only be streamed over Wi-Fi and there is no option for offline viewing.
Google Play Movies & TV joins Google Play Books and Google Play Music as the third Google Play app available on iOS.
Google's Chromecast can be purchased directly from Google for $35 and it is also available from a number of third party retailers like Amazon and Best Buy. Google Play Movies & TV can be downloaded from the App Store for free. [Direct Link]