Apple Begins Offering Unlocked, SIM-Free iPhone 5s Models in U.S. with 1-2 Week Shipping
Apple today updated its U.S. online store to begin offering sales of unlocked, SIM-free iPhone 5s models, with shipping estimates currently set at 1-2 weeks compared to 3-5 business days for carrier-specific purchases (via 9to5Mac). Pricing is the same as for other unsubsidized iPhone 5s models, with the 16/32/64 GB models available for $649/$749/$849 respectively.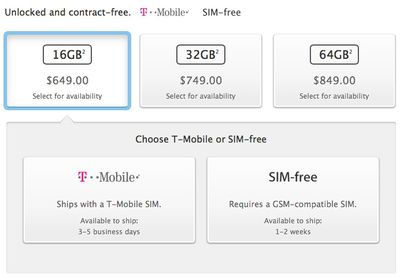 While the launch brings official unlocked device sales to Apple's stores for the first time, many of the carrier-specific models sold by Apple have been unlocked all along when purchased at full retail price. For example, the T-Mobile iPhone 5s models sold by Apple have been unlocked since launch, although the company has not been specifically marketing them as such. There had been some early confusion about the issue, as Apple initially listed some iPhone 5s models as unlocked leading up to the launch, but the company removed that text at launch time.
With today's addition, the company is now more clear about offering unlocked models without the need for any SIM card to be included at the time of purchase, with the models available for use on a number of carriers around the world.
As Apple notes on the store page, unlocked iPhone 5s devices are model are A1533 and are compatible only with GSM networks.