Inside Apple's A7 Chip, M7 Motion Coprocessor, and More from the iPhone 5s
At its media event introducing the new iPhones earlier this month, Apple highlighted several chip innovations included on the iPhone 5s including a new A7 main chip with one billion transistors and a smaller M7 "motion coprocessor" designed to efficiently measure accelerometer, gyroscope, and compass data and thus allow for enhanced fitness tracking, navigation, and more.
Chipworks and iFixit have now posted a teardown revealing what's inside these chips, as well as several other components of the iPhone 5s, offering an interesting first glimpse at these components at the heart of the device.
In looking at the A7, Chipworks noted that it is indeed manufactured by Samsung using its 28-nm process node. Apple has been seeking to shift its A-series chip production from Samsung to TSMC, but TSMC's chip production will reportedly not start until early 2014.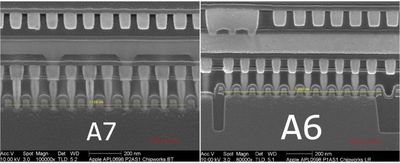 Gate pitch comparison of A7 and A6 (click for larger)
For the A7, Apple and Samsung have reduced spacing between transistors to 114 nanometers, a 7.3% decrease compared to the A6 chip. That denser transistor packing plus a slightly increased die size has helped Apple to fit approximately one billion transistors on the chip.
It turns out that the A7′s "gate pitch" — the distance between each transistor — is 114 nm, compared to the A6′s 123 nm.

Those 9 nm are a big deal. Looking to improve on their current 32 nm process, Apple decided to make the A7 with the same 28 nm process as the eight-core Samsung Exynos 5410, the current flagship CPU for Samsung's own Galaxy line.

A7 transistor die photo (click for larger)
Chipworks also took a look at the M7, which is actually an
ARM Cortex-M3 part
from NXP running at 180 MHz. The chip allows for low-power collection of motion data drawn from a Bosch Sensortec accelerometer, an STMicroelectronics gyroscope, and an AKM magnetometer.
After collecting information from the accelerometer, gyroscope, and magnetometer, the M7 performs some matrix math processing magic to produce an absolute orientation of the phone relative to the world. This data is then passed to the A7 in a neat package, probably in the form of three headings (roll, pitch, and yaw).

Using the A7 to monitor this sort of data would be mega-overkill, so the M7 was introduced to maintain a constant, low-power watch over these sensors.

M7 die photo (click for larger)
Finally, Chipworks performed some analysis on several other components from the iPhone 5S, including the rear camera sensor and LTE modem, while iFixit pointed to the Wi-Fi module and various radio and power amplifier components that all work together to provide connectivity for the new iPhone.